Wednesday, February 25, 2004
THE LIARS
,
THE YEAH YEAH YEAHS
,
TV ON THE RADIO
, and
THE CHROMATICS
@ Warsaw (Brooklyn NY) - Feb 24, 2004
It was my birthday last week and, as part of my present, my
girlfriend
gave me tickets to see this show. I thought she was going to go with me, but she insisted that I give the ticket to someone else. Although I gave her plenty of chances to change her mind, I soon realized that a girl who considers Thom Yorke to be the most pretentious man in music probably wouldn't enjoy travelling to Brooklyn to see the Liars. So one of my friends filled in for her.
To be honest, I couldn't really get into what the two-man Chromatics were doing. I've decided a while ago that I'm a fan of either live drums or no drums at all, not bands who rely upon samplers.
I already wrote about seeing the Liars and TV On The Radio before. You can read my posts
here
and
here
. In short, the Liars were just as unpredictable and fun to watch, and they didn't make us suffer through a 20 minute introduction of looping noise this time around. Not long after the set started, Angus stood on top of the bass drum, lost his balance, fell over, and took down drummer Julian with him. Aaron, the multi-instrumentalist, didn't stop playing and his fallen bandmates quickly regained their composure and carried on with the song. A lesser band would've stumbled, yet the Liars just moved ahead in pure rock and roll fashion. Just as I make a point to see Enon whenever they play, I may start doing the same with the Liars as well. They're that good.
TV On The Radio was better than the last time I saw them. They played a short set and were either really good or just okay. The really good songs were enough to sustain my interest in them, though, and my friend told me that he was impressed by their ep. He also thought they were just victims of a muddied sound system.
The Yeah Yeah Yeahs weren't listed on the bill. After TV On The Radio finished their set, I commented on how little time both they and the Chromatics had to play. My friend told me that the Liars' website promised a "special guest" and we soon recognized Nick Zinner soundchecking his guitar.
I saw the YYYs once before, at the 2002 Siren Festvial. I thought they were awful then and left to check out the second stage after two songs. Until I heard "Maps," I never liked any of their songs and I certainly wouldn't have gone out of my way to see them live. But now that we were in the same room and I was caught up in the drama of a secret/surprise show, I was pretty excited when they took the stage.
They're really good. Brian Chase is an impressive drummer and really fun to watch, Nick Zinner's guitar parts were always interesting, and Karen O has the charisma of a rock start yet came across as very likable. Just as the crowd was enthused to see her band play, she seemed equally happy to be there -- smiling when she sang and professing undying love to the Liars in between songs. By the time they left the stage, there was no question why they're one of the biggest New York bands today and I made a mental note to pick up their album.
Monday, February 23, 2004
THE 13TH FLOOR ELEVATORS
The Psychedelic Sounds of...
(International Artists)
The came from Texas, were fronted by cult-figure Roky Erickson, and featured a full time water jug player. They played garage rock with off-kilter arrangements and had an unique sound. They scored a mild hit with "You're Gonna Miss Me" and were also embraced by the San Francisco underground rock scene. The 13th Floor Elevators were a brightly burning band whose light was snuffed after only three years (and three albums) when Erickson was both arrested on drug charges and institutionalized for mental illness.
The Psychedelic Sounds Of...
, released in 1966, is their first record and regarded by many to be the very first psychedelic rock album. Funfact: all of the 13th Floor Elevators albums were produced by Leland Rogers, brother of Kenny.
"You're Gonna Miss Me" is a rollicking good time, the perfect album opener, and deserves to have been more than just a minor hit. Today's indie fan may recognize "Reverberation (Doubt)" after Clinic recorded the same song and called it "Internal Wrangler." "Monkey Island" is probably the only soulful psych rock song I've ever heard, and Erickson is possibly the only singer capable of pulling off those monkey noises without embarrassing his or herself.
Severin drummer Bobby was kind enough to pick up this album for me during one of his visits to New York and I'm grateful to have been introduced to this band.
For more info:
Here's a
fan site
and here is the
AMG entry
.
Friday, February 20, 2004
My friend and fellow record collector Mike D is a proud owner of the ambitious Flaming Lips' album
Zaireeka
. Over the summer, he hosted a small gathering complete with four cd players and an equal number of participants so we could experience
Zaireeka
in all its glory, and it turned out to be a fun success.
He recently had the idea to start a series of similar listening parties for obscure albums. Ideally, there would be a regular group of us and the host(ess) would rotate with each party and they would be the one responsible for selecting the music and providing a location. As far as the type of music we'd listen to, he offered
Zaireeka
, the Beach Boys'
Smile
, and
Moondog
(you can see my post on him
here
) as guideposts.
Anyway, this sounds like a cool idea and I'm going to take part. If you live in New York City and would join in the fun, send me an
email
for more details.
Tuesday, February 17, 2004
I've been doing some bidding (albeit unsuccessfully) on Ebay lately, but I'm going to have to pass on
this one
.
Found via I Love Music
Sunday, February 15, 2004
There's a new addition to the links at the right.
Record Store Review
is a database of record shops from around the world, complete with customer ratings. So whether you're headed to Minneapolis, Melbourne, Mexico City, or Minsk, this is a handy site to consult if you plan to go record shopping.
Saturday, February 14, 2004
Oh happy week! My cds found some new friends to play with, thanks to a couple of my friends. Real life friend Mike D was kind enough to make me a copy of the self titled albums from both
Caetano Veloso
and
Gal Costa
, as well as the compilation
Tropicalia: Ou Panis Et Circenses
.
All three albums are very good and highly recommended. I've been listening to them exclusively non-stop since I got them, until yesterday when I received some cds in the mail from e-friend
Candace
, who was nice enough to make a copy of Felt's
Stains on a Decade
, a mini
Happy Mondays
comp, and a hipster dance party cd.
I am floating in good, new music.
UPDATE: My good fortune continued when I checked the mail on the way home tonight. Not only was there a
mix cd
from Radio Sally, but the new issue of
Magnet
as well. Life is good.
Thursday, February 12, 2004
THE VELVET UNDERGROUND
White Light/White Heat
(Verve)
This is the second VU album and the last to feature founding member John Cale. Arguably one of the worst recorded albums, it's an incredibly fun listen.
The Velvets made no secret that they were hoodlums first and a band second (one of them later admitted that they even ripped off the guy who booked their first show), so it doesn't really come as a surprise that this album sounds like it was recorded by an engineer who didn't really like them. According to legend, when the engineer noticed all of the levels were in the red, he asked the band to turn down their instruments but they refused and insisted it was his job to make them sound good anyway. As the band began to track their 17½ minute noisefest "Sister Ray," the engineer just walked out and left them alone in the studio.
The album itself is quite wild. It opens with "White Light/White Heat," a recklessly noisy ode to speed. "The Gift" features a funny story about a jealous boyfriend who packs himself in a crate and ships himself via air mail to his girlfriend away in college. "Lady Godiva's Operation" is the most glaring example of the album's need for production: John Cale and Lou Reed's call and response is so poorly mixed, Reed's voice comes in three times louder than Cale's voice or anything else in the song (and the rest of the album, for that matter). The gentle "Here She Comes Now" is the calm before the storm which would be the one-two punch of "I Heard Her Call My Name" and "Sister Ray."
For more info:
This looks like a promising
fan site
for the Velvets. Here is the
AMG entry
for the band.
Monday, February 09, 2004
The show went okay last night. I ended up playing about a half hour's worth of mostly new songs and the audience was larger than I was expecting. Despite an awful soundcheck and a few slip ups attributed to nerves (it was my first time alone on stage this century), I ended up feeling pretty good about how it went. The Motel Creeps were much better, though, and gave the best performance I've seen from them yet.
In time for last night's show, I decided to self-release a collection of home recordings. Calling my project the Collapsible Kingdoms, I put together a very primitive
website
(I still have to fix some of the photos as well as figue out how to add mp3s). In the meantime, though, I'm selling copies of the cd. I'm also putting together a new one which will hopefully be available in the near future.
I've also been asked about upcoming shows but I don't have any planned. My main interest is to start playing with a band again and that always takes first priority.
Friday, February 06, 2004
I'm going to be playing an acoustic set at the
Ristra Lounge
this Sunday, Feb 8. I go on at 6pm and I'll be opening up for the
Motel Creeps
.
Not only will it be my first time ever playing somewhere outside of New York City, it's going to my first solo performance in a very long time.
The Ristra Lounge is located at 230 Washington St in Hoboken, NJ.
Welcome to the conclusion of They Came From New England Prep Schools Week. Another forgotten band of that era has come to light lately and although I haven't heard any of their songs, I have a feeling they're not as good as the Rising Storm.
John Kerry, yes
that
John Kerry, played bass in a band called the Electras and they too recorded an album, which has been out of print for decades.
Swamp City
has the details as well as a picture of the cover art. The
Washington Post
has a longer article, including a band photo, about the senator's rock and roll past.
Thursday, February 05, 2004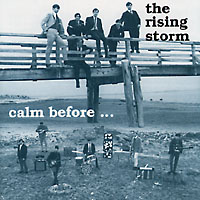 THE RISING STORM
Calm Before...
(Arf! Arf!)
The Rising Storm were six students in the Phillips Academy class of 1967. They bonded over a shared obsession of music and would sneak away whenever possible to get in band practice. They played at local frat parties and school dances until graduation, when they each went off to college as well as their separate ways.
Before graduation, however, they managed to record
Calm Before...
at a vanity press. A twelve song release, it's a 50/50 split between originals and covers. The cover versions sound much as you would expect any decent cover band to sound but it's the strength of the original songs which both prove how good they really were and makes them stand apart from many similar bands of that era.
Long after their demise, a revived interest in 60s garage music brought the Rising Storm to the attention of record collectors and
Calm Before
became recognized as one of the most rare and sought after garage collectible from the 60s. Most of the original members reformed for a class reunion in 1982 and played one more show, which was recorded for posterity's sake --
Alive Again At Andover
.
Arf! Arf! Records reissued
Calm Before
in 1992 and included it on cd along with
Alive Again
. The reunion show isn't too spectacular as it basically sounds like men who haven't played their instruments for 15 years getting together for a trip down memory lane. While it may have been fun for the members of the band and those in attendance, it's a marked difference from the band who lugged their instruments into a vanity recording studio one day, a long time ago.
For more info:
I couldn't find any websites devoted to the Rising Storm, but Arf! Arf! has
an official website
. The AMG has
a few words to say
about them as well.
Monday, February 02, 2004
A couple of upcoming shows for some friends of Executive Slacks (I'm tempted to call them FOES, but I won't):

* Handwriting will be playing at Pete's Candy Store (709 Lorimer St. Brooklyn NY) on Thur Feb 5. The show starts at 9pm.
* The Motel Creeps are playing the Ristra Lounge (230 Washington Street Hoboken NJ) on Sun Feb 8 at 6pm.

Public apologies to Severin for failing to mention their recent shows in a timely manner.