Sunday, November 30, 2003
SUEDE
I read a while ago that Suede announced their impending break up and I can't say I was too surprised nor saddened. Don't get me wrong; I love the band and think they left behind a body of music that should make most other bands envious, but I've already written about my
ten year rule
[Sept 10 post]
on this site.
Today I was having a look around the band's website and noticed there's only two weeks left until they end their career at the London Astoria. Reading all the posts on the message board of fans scrambling for tickets to that show filled me with a sense of sadness and nostalgia, especially when I began to wonder how the band might handle that final performance. I imagined multiple encores, a few songs they haven't played in years, and a room full of people dreading the moment the band steps off the stage. As for the band itself, the conscious act of ending a major part of their lives for the past decade or so is a pretty big deal in itself.
I first got into them almost as long ago when I was a young Anglophile spending all of my money on import cds. Introduced to the British indie scene via bands like Blur, Elastica, and Lush, it didn't take long for me to discover Suede. I bought their 1993 self titled debut and enjoyed it, although it was the pop brilliance of 1996's
Coming Up
which endeared the band to me.
I spent the following summer in London where one of my friends there would not only introduce me to Radiohead, but give me a copy of 1994's
Dog Man Star
. While I knew the band was capable of bigger than life rock songs, I was not prepared for, and overwhelmed by, the staggering beauty of that album. I was officially a fan. When Suede released
Sci Fi Lullabies
, a two disc collection of b-sides, in 1997, I bought it right away. Their b-sides, most likely outtakes and throwaway songs, were leagues better than a lot of proper albums and a-sides other bands were releasing and I was convinced Suede could do no wrong.
Then they gave us
Head Music
in 1999. A weak attempt to cash in on the electronica craze, it sounded forced, dated, and very inconsistent. Certain their best days were behind them, I never bothered to pick up last year's
A New Morning
, although some of the reviews I read said it was better than its predecessor.
For more info:
In addition to the
official site
, there are plenty of fan sites. You can look
here for a start
. The All Music Guide has
an entry
for the band as well.
Thursday, November 27, 2003
THE SECRET MACHINES
,
TRANSLOVE AIRWAYS
, and INOUK @ Northsix (New York NY) - Nov 26, 2003
I'll start off briefly. I can't say I was particularly into the kind of music Inouk plays, but they weren't bad and managed to hold my attention for most of the set.
I'd heard of Translove Airways before as they came to me recommended by my girlfriend, although I really didn't know what to expect. When the band first took the stage, I swore 4 of the 5 members look like they'd just been timewarped to the 21st century. Then they graced us with a really good set of infectious 60's flavored rock and soul. If I were a dancing man, I would've shimmied like there's no tomorrow. And who needs tomorrow when yesterday sounds so good?
Now for the long part. For well over a year, one of my friends has been telling everyone he knows about the Secret Machines and how this Brooklyn-via-Texas trio is a must see. And while they play around New York often enough, something or another would always prevent me from seeing them. Meanwhile, the more he spoke about this band, the more monumental my expectations became. Factor in their increasing amount of local press and I began to think they will soon be the Next Big Thing. I still had no idea what they sounded like, although one recent preview of another show warned they play loud.
Watching the band load their gear on the stage, the first thing you see is the bass drum and its visual promise that they will be Loud. I've never seen a bass drum that big and I'm convinced you can comfortably fit a midget inside that drum -- standing up! Even the toms seemed supersized.
The band supplied its own lighting which was cool, but the big story of the night was their music. I don't think they'll ever become the next big thing simply because bands like this are most often appreciated after their demise. For lack of a better description, imagine the place where shoegaze, glam rock, Pink Floyd, and 21st century sensibility can all agree upon meeting, and then start from there. The guitarist sometimes attacked his guitar in ways in which I would be afraid of breaking every string and the drummer would provide spurts of ferocious frenzy while the singer/organist was there to remind us of the song structures and sometimes fragile melody.
If you were to believe the music press, you would believe bands like the Strokes or BRMC saved rock and roll; they merely tossed a life preserver out to a drowning man. The Secret Machines pulled him ashore. New York indie crowds are notorious for limiting their physical movement to polite head nods, but there was a lot of moving going on last night (the girl in front of me danced like she was having an hour long orgasm, devil horns in the air). You can't get more rock and roll than that.
Wednesday, November 26, 2003
Another old bandmate of mine is in a new band,
Handwriting
. They're playing their first show this Tuesday, Dec 2 at 9pm, at
Lit
(New York NY), along with If When and the Desperation.
I haven't heard them before, but he describes the band as sounding like "the Promise Ring and American Football .... the music features simple rhythms and singing done in a plaintive fashion."
I know Yaron (the bassist) is an excellent musician, so I have no doubt this will be a good show.
This is a pretty
interesting site
. If only I were an indie rock star, so I could share with the world such recipes as: Uncle Peter's Homestyle Steak Fajitas, my World Famous Potatos, my Chocolate Banana Milkshake (perfect for sweltering summer days without air conditioning), or my gluttonous Chocolate, Strawberry, Banana, and Cream Cake.
But I'm not, so I'm not sharing.
I was pleasantly shocked last night when I learned that PBS is airing episodes of
Mountain Stage Theater
. The television broadcast, however, is only an abbreviated version of the radio show.
For those who may be unfamiliar, Mountain Stage is a two hour radio show taped in Charleston, WV for public radio. It used to be a live show but the time (Sundays 3-5pm) was difficult for guests who often had to travel after a Saturday night performance, so they began taping it later in the evening to broadcast another time. It's still performed in front of a live audience, though.
Its greatest strength is the diverse programming. It could have rock bands one week and bluegrass musicians the next. The first time I ever heard about it was my first year in high school when REM, who didn't tour to support
Out of Time
, came to Charleston to promote that album on Mountain Stage. Predictably, the tickets sold out in a heartbeat and scalpers were charging (and getting) obscene amounts of money for tickets.
Since then, I started going to the broadcasts every now and then and got to see some really good music as well as some okay music. Some of the more famous acts I saw were Loreena McKennitt a few months before she had her one hit on MTV back when Celtic new age was still cool, the Proclaimers during the height of "I Would Walk 500 Miles" mania, and I'm 95% certain I saw Sheryl Crow a year or two before she hit the big time.
The best show, however, was when the Violent Femmes came to town my senior year in high school. It was the most talked about Mountain Stage since REM and I was able to get tickets. It still being live radio then, there was an added layer of excitement that buzzed with each episode and the sense anything could happen. During the pre-show warmup, host Larry Groce announced he made a special sign just for the Violent Femmes and then he showed us a sheet of paper with DON'T SAY FUCK scrawled in large letters. Of course, when the Femmes finally played "Add it Up," they left out the naughty word in question while the crowd very enthusiastically filled in the blanks. One of my friends was seated near an audience mic and later bragged about how she leaned into it and shouted the proper profanity.
I may have yelled it out too. I can't remember. But when you're 17 and cursing on live radio, violating FCC regulations, it feels like you're sticking it to the man and that's really cool.
I realize this post may have caused a disservice to the fine show they run over there at Mountain Stage. But don't let me scare you away -- it's a really a fine show and deserving of attention.
Monday, November 24, 2003
The
NY Press
announced they'll no longer carry the Dustbin. Whether this means Derek Davis no longer writes the column or they just don't want to print it anymore, I don't know. I miss it already.
Here is the
last Dustbin article
.
I've tried doing searches on Derek Davis to see if his articles are elsewhere on the internet, but was unable to find anything. I also emailed the
NY Press
, but they ignored me. If anyone has any information as to a new site where I can read his writing, I would be most thankful.
PS: the
NY Press
is now running a new column by him, the Dustjacket, for those of you who are interested in reading about books. Personally, I find the idea to be a bit silly, although I suppose one can apply the same argument to reading about music.
Saturday, November 22, 2003
Delayed post for the day:
About a month ago, a friend told me that he had a dream where Michael Jackson did a dance remix of My Bloody Valentine's "When You Sleep" and the song was a big hit. It rejuvenated Jackson's career and made MBV more famous than ever. I went home and listened to "When You Sleep" and couldn't really hear it, but started to think that if Jackson were to do an Off the Wall kind of song while sampling the main guitar riff from "When You Sleep," it not only would work, but could sound pretty cool.
I discussed this with my friend and we agreed that a Michael Jackson/Kevin Shields collaboration, as strange as it sounds, makes a lot of sense. After all, it wouldn't be the first time Jackson would work with a guitar hero (he's already worked with Eddie Van Halen and Slash) and Shields was coming out of his self-imposed exile, thanks to the Lost in Translation soundtrack. Additionally, both are regarded as highly talented, visionary, yet oddly eccentric music makers. I felt we were on to something big.

Kevin Shields aside, my friend felt Michael Jackson was ripe for a comeback. Instead of making that Peter Pan music Jackson's been doing lately, my friend thought he should make a truly bizarre album (like a Kid A or Metal Machine Music) to express what must be going through his mind. Either that or reunite with Quincy Jones and make a funky dance album to excite the masses.

Random post for the day:
I was listening to the Velvet Underground's "Sister Ray" yesterday. At some point in the last 5 minutes or so of the song, the organ starts playing around with a line which started to sound very similar to the main riff from Eminem's hit "Without Me."

Thursday, November 20, 2003
An old bandmate and I are starting a new band and we need a drummer. If you play drums, live in New York, and might be interested, please
send me an email
for more details.
For a starting point of reference, our last band used to get compared to the likes of the Cure, My Bloody Valentine, Sonic Youth, and the Velvet Underground.
Wednesday, November 19, 2003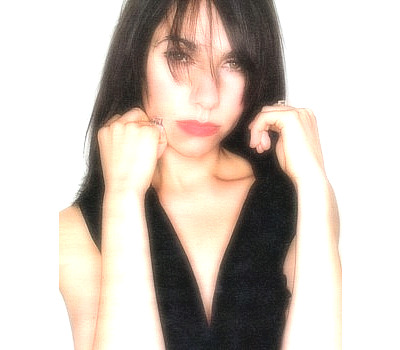 POLLY JEAN HARVEY
I actually first heard of Polly Jean Harvey from a
Beavis and Butthead
episode when they played the video for "50 Ft Queenie." I'll admit I wasn't impressed right away, but she eventually grew on me. As the years passed, I kept reading and hearing enough of her to pique my curiosity and I bought
Is This Desire?
not long after it came out. Around that same time, someone gave me a tape of
Dry
and
4 Track Demos
and I fell in love with her.
Polly Jean Harvey's parents were both music fans and she quickly developed an interest in music. Whenever touring musicians found themselves near her hometown of Yeovil, England, Polly's parents would often invite them to stay at their house, on the condition the musician would give Polly a music lesson. She quickly became proficient at a few different instruments and would excel at guitar.
She went on and formed a band, PJ Harvey, which quickly found success and critical acclaim. With strong songwriting, vicious guitarwork, and a persona which was equally smart, sexy, and tough, she was the perfect icon for the alt-rock explosion of the early 90s.
Besides releasing a number of very good albums, she was also involved in a number of collaborations with musicians such as Nick Cave, Sparklehorse, Tricky, and Gordon Gano.
I've often felt that if half of the girls today who try to emulate Britney Spears would get into PJ Harvey instead, this world would be a better place.
For more info:
official site
All Music Guide entry
Tuesday, November 18, 2003
This
bit of news
just made my day.
I would like to point out, for the record, that January 27 falls about halfway between Christmas and my birthday.
I've been caught up in this whole mix tape mood and found a lot of sites on the internet devoted to them. Here's
one
I thought was kind of interesting.
I even went ahead and submitted the
track listing
to the last mix tape I ever made (back in early 2002!).
Monday, November 17, 2003
I'm going to make a mix cd for someone. This really excites me since I haven't had a reason to make a mix tape for anyone in a very long time and I was starting to miss it.
I used to make them more often. From time to time, I would randomly surprise my
girlfriend
with one, but now she lives with me and has complete access to my music collection so I don't see the point in doing that anymore. Whenever I played in a band, I would sporatically make tapes for my bandmates, but I haven't been in a band for over a year. When I belonged to the
indiepop list
, I used to participate in the monthly tape swap, but I'm no longer on the list (long story). Needless to say, I was anxious to make a mix tape for somebody.
Personally, I prefer to make tapes rather than cds. There's a larger canvas from which to work when using the cassette (90 minutes vs 80 minutes), and tapes create a natural intermission whenever you have to flip from side one to side two. Additionally, since it take more effort to skip a song on tape rather than cd, the cassette forces a greater sense of continuity than cd (more on this some other time).
Like most people, I have my own rules to follow when making a mix tape but I won't get into that. I've never been compelled to send any hidden messages to the recipient of the tape as I've always felt the mix should just be about music. Having said that, I've often considered making themed mix tapes.
The only time I ever made a themed cassette, however, was in October 2001 when some unlucky fellow on the indiepop list got my War, Death, and New York tape.
Other themed tapes I've considered making but never did include Cover Me With Noises, an assortment of cover songs, Ghosts and Girls, songs involving either ghosts or girls, and the Incest Album, a collected series of songs connected by sharing similar musicians
[For example, one such series could be: Mogwai's "R U Still In 2 It" (featuring Aidan of the Arab Strap), followed by Arab Strap's "the Clearing" (featuring Isobel, formerly of Belle & Sebastian), followed by just about any older Belle & Sebastian song]
.
More often, I just forgo any sort of theme and simply pick out songs I like, trying to order them in a way so each song flows into the next as seamlessly as possible.
In a long roundabout way of saying things, I've decided to start a swap of my own right here. If you'd be interested in making a mix tape/cd for some other reader of this site, and receive one in return, send me an
email
with your name, address, and whether you'd prefer to swap a tape or cd. I'll make the deadline to sign up November 30.
If I have any interest at all, I'll match up participating readers with one another by December 2.
Thursday, November 13, 2003
One of the fun things about going record shopping in another country is the likelihood of finding something you can't get at home. Even though New York has enough record shops to keep me busy and the internet makes it difficult not to find whatever you're looking for, record shopping in a foreign location is an adventure of possibility and opportunity.
When my recent trip to Ireland took me to Dublin, I couldn't wait to buy new music. Unlike most tourists, however, I had no interest in buying Celtic records since I already acquired most of my dad's collection of ballads, rebel songs, and pipes music.
In a visitors' guide, I read about
Road Records
, described as "an out of the way store for out of the way tastes." I knew it was the place for me, even I wasn't sure from that description whether it sold indie rock or obscuro vinyl (perhaps I could buy
this
!).
It was an indie rock store and, even better, they had a whole section set aside for Irish independent releases, which was exactly what I was looking for. Now I consider myself pretty knowledgable about music; I read music publications from both sides of the Atlantic and can offer at least name recognition for a lot of artists. But as I looked through the Irish indie section, I was overcome with a sense of confusion and being lost that I hadn't experienced since the time I browsed the cds in the House of Trance. It was a sea of cds and few, if any, of them came with any sort of description.
I decided to ask the guy behind the counter for help. I knew it was a risky chance -- he could have awful taste and he might even make fun of me later on*, but I went ahead anyway and asked him what he would recommend. To keep my options as open as possible, I only told him I was looking for "something interesting."
He turned out to be really helpful, pulled out a couple of cds, and let me listen to them with headphones. I gave each cd a 3 minute tour and if I wanted to hear more, I bought it.
*
When I was in Olympia WA, I overheard a clerk tell his friend, "Some guy came in here this morning and said `Show me the grrl bands!' so I sold him all those Bikini Kill singles I couldn't get rid of." Then he and his friend shared a laugh.
Here's what I bought:
BOXES
Big Ships in the Night Small Boats in the Morning
(self released)
The guy in the store described them as sounding like Fugazi and I think that's a fair enough introduction. The loudest and punkiest (the clerk's musical taste clearly had a punk leaning) of my purchases, it's grown on me alot since I took it home.
FAIRUZA
Beautiful
(self released)
He described this as being poppier and it is the poppiest of my purchases. Reminding me of Placebo at times, there's some good songs on here as well as some average indie sounding songs. The most instantly accessible of the bunch.

THE JIMMY CAKE
Brains
(Pilatus Records)
He described this as "instrumental and very good" and I couldn't have said it better myself. They're a nine piece band with songs of epic length. Imagine Sigur Ros without the ethereal-ness and Godspeed You Black Emperor! without the loud/soft dynamics. My favorite purchase from the trip.
V/A
Kicking Against...
(
Independent Records
)
A compilation album, it presents "nuggets from the new Irish overground." It's a good cd; the most expensive of the four, but well worth it. It covers a lot of musical terrain from singer/songwriter to rock band to hip hop (yes, Irish hip hop) and back again. It also features a track from the Jimmy Cake album.
Sunday, November 02, 2003
Saturday, November 01, 2003
I'm usually one of the last people to jump on any new technology bandwagon, so it really shouldn't come as a surprise that I'm just now discovering the world of online music. I never got into downloading songs, but I'm really into streaming music. Thanks to the internet, I rediscovered radio.
WFMU
is a free form radio station from Hoboken NJ. Rumor has it you can pick up reception in Manhattan, but apparently any apartment I've lived in is immune to its signal. Fortunately, I can listen to it now over the internet and I've fallen in love with those music nerds from across the river. The programming is widely varied so there's something for everyone, and they have a great archive/search system.
Additionally, WFMU holds their famed
record fair
twice a year. The fall edition is next weekend, and I hope to at least catch the end of it. Bring lots of cash and prepare to spend the day because the $5 admission is the best five bucks you'll ever spend.
WNYU
is the student run station of New York University. The New Afternoon Show is the only place on local radio that I know of which consistently plays indie rock. My
girlfriend
goes to grad school there and I tried to get her to get involved with the station so I can live vicariously through her, but she claims she's too busy.
When I was in school, I tried to get involved at
U92
and interviewed to be a deejay. Despite others telling me I would have a radio voice, they didn't like me. Oh well. It's still a good radio station and I hope one day they'll start streaming their broadcasts so I can listen to it again.
Candace
directed my attention to
KEXP
, a listener supported station from Seattle. I listened to it a few times already and like what I've heard so far.
I'm sure there are plenty of other good stations out there, and would be interested in knowing if any of you listen to any worth mentioning.